More About Columbus Subaru Car Repair and Service

Welcome to our state-of-the-art auto repair shop! Located in Columbus, Ohio, our Subaru service center is a preferred destination for customers in Dublin, Springfield and Hilliard! To schedule your next appointment online, head over to our service appointment form. To speak to a service adviser before making your next appointment, contact us by phone at 877-371-2094. 

We challenge you to find an auto repair shop in Columbus that has Certified Subaru mechanics, access to OEM Certified Subaru parts, and competitive prices! Come see why our loyal customer base extends from Columbus, Ohio to Dublin, Springfield and Hilliard. 

We have a fully-stocked inventory of new Subarus, and used cars, with some of the area's most competitive prices. 
Here we offer:
Loaner and rental vehicles *ask a service adviser how to reserve one
Free WiFi
Free Hot Coffee and Hot Tea
Free Bottled Water
Vending snacks and beverages
Comfortable seating
Flat screen TV
Meet our service department!
Brian Trout
Service Manager
Cindy Tackett, Jessica Skeens, Lizzy Pocino, Ann Hill, Rich Hertenstein, Thomas Mclymont
Service Advisers




YOUR SUBARU IS IN GOOD HANDS WITH OUR SUBARU TECHNICIANS!


  


  
Keith Pulfer
Senior Master Certification

Started with Subaru in 1978.

Owns a 2007 Legacy that has 571,000 miles and still has the original transmission! Everyone in his family owns some type of Subaru including his wife, daughter, son, son-in-law, and mother.  They own models such as the Outback, Legacy, and Impreza years ranging from 1996-2009!

Steve Hall
Master Certification

Has worked at Hatfield Subaru since 2003.

"I love Subaru because they are trouble-free and so [customers] are usually happy when they come in. I love the brand loyalty that Subaru customers have for the product"

Nick Maxwell
Apprentice Tech (Master Certification in process)

Has worked at Hatfield Subaru since 2008

"I have owned 3 WRXs and 2 Legacys. I love the product and love the way they are easy to work on, low maintenance and rarely do we run into big problems with the product."

WHERE TO GO ON YOUR FIRST VISIT
STEP 1
- Pull your vehicle up to our service drive. If the door is closed, honk your horn for service.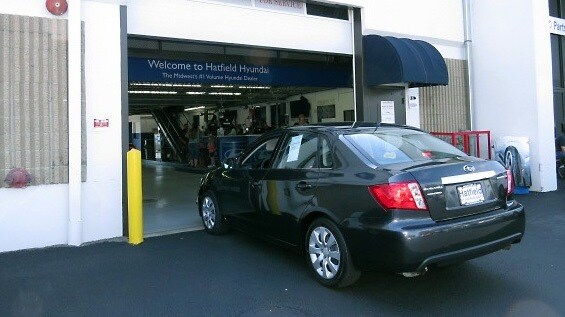 Due to the amount of Subaru service volume, our Subaru techs are sharing their service drive with the Hyundai team until we get our new location!
STEP 2
- Step up to one of the desks and speak with a Service Adviser. Our friendly and knowledgeable Advisers will check-in your vehicle and assist you with any service questions.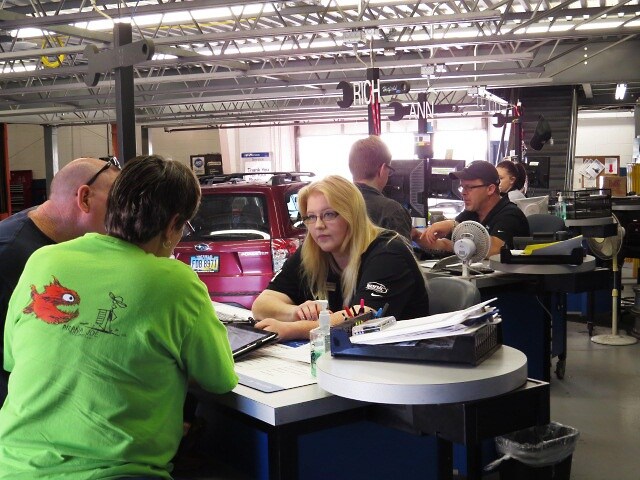 STEP 3-
Wait with us or we will call you to let you know that your service is complete.
PICTURE OF WAITING AREA

Have a seat and relax in our waiting area while we work on your Subaru! Please enjoy our FREE coffee and tea while you read a magazine or watch TV!  We also have FREE WiFi under the network name SONICGUEST!
Don't want to wait?
Ask about our Service Loaner vehicles or how to rent a vehicle